There are two ways to get more storage space.
You can extend the storage space by following this link and logging in via our website: https://web1.storegate.com/settings/subscription/price-plan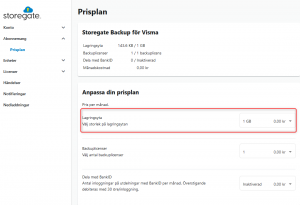 Or you can always contact our support team at support@storegate.com and they will help you.
It is also possible to delete files from the storage area via the website:
Log on to our website www.storegate.se
Files can be found under "My Files" and under "Computer Backup" in the left menu. Tick the files to be deleted and click the "Delete" button in the top right menu.
Files deleted from "My Files" will be placed in the trash. It must then be emptied for the files to be permanently deleted.
Files deleted from "Computer Backup" are permanently deleted immediately.